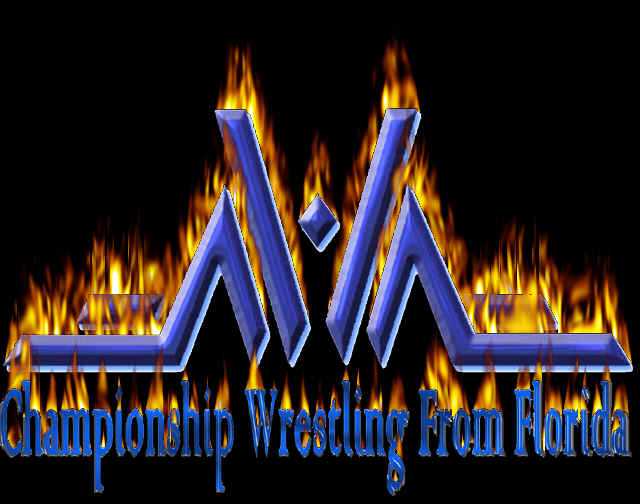 NWA Florida Junior Heavyweight Title History

compiled by "Wrestling Title Histories:
4th ed." by Royal Duncan and Gary Will as well as Earl Oliver, Scott
Teal, Hisaharu Tanabe and Brian Westcott.

1.Babe Kasaboski 03/05/42 Jacksonville, FL
* Defeats Morris Shapiro by disqualification.
2.Bill Ludwig 09/04/44 Tampa, FL
*Defeats "Butcher Boy" Billy Williams.
TITLE VACANT
3.Jerry Brisco 05/81
*Defeats Hiro Matsuda in tournament final
Vacant and inactive
4.Hector Guerrero 12/83 Defeats Denny Brown
Title abandoned in 1984
Title revived by NWA Florida in 1998
5.Mike Marcello 11/07/97-Gainesville, FL
*Defeats Jet Jaguar and Pepe Prado in a Triangle match.
TITLE VACANT
11/13/98-Gainesville, FL Marcell stripped for no showing defense
6.Buck Quartermaine 11/13/98-Gainesville, FL
*Defeats White Chocolate in match for Vacant title
7.Pepe Prado 08/15/2000-Tampa, FL
8.Lex Lovett 11/14/2000-Tampa, FL
9.Jet Jaguar 07/18/2001-Ybor City, FL
10.Lex Lovett 08/21/2001-Tampa, FL
11.Justice 01/26/2002-St. Petersburg, FL
12. Naphtali 8/2/02 - St Petersburg, FL
13. NWA FLORIDA SPLITS into two separate brands on 12-02-02 , NWA Championship Wrestling From Florida remains as classic southern style wrestling. NWA Florida moves on to it's more extreme format. On this date NWA Championship Wrestling From Florida will not recognize NWA Florida Brand current champions. However NWA Florida Brand drops the JR. Heavyweight title name to become the NWA Florida X Title. NWA Championship Wrestling From Florida retains the rich heritage of this title by crowning the new Florida Jr. Heavyweight champion on Jan. 25th. Mr. Wrestling 4 pinned Donnie York in the finals of the tournament.
14. Mr. Wrestling 4 was stripped of the title for non defense on 5-17-03
15. 5-30-03 The NWA CWFL Championship Board signed a special match with Talon and Outlaw Joe Woods in a Four Corner Texas Bull Rope match to crown a new Jr. Heavyweight Champion. Talon came out with the win.
16. 09-20-2003 Ocoee, Florida during a triple threat match between Talon, CB Kool and Rouge. Talon got pinned by CB and Rouge so the match continued were CB got the win over Rouge to become the champion.
17. 10-10-2003 Parkersburg, WVA Kevin Rhodes pinned CB Kool with the Texas Twister Slam.
18. 11-15-2003 Rouge
19. 11-15-2003 CB KOOL
Recap of the night
The exciting semi-main event match was the 4 way match for the NWA Florida Jr. Heavy Weight Title. This exciting battle included former champion TALON of Monroe, Michigan, The Rock-N-Roll Phenom "Rouge" with manager to the stars, Ace Valvone, The current champion, Lone Star Kevin Rhodes of Amarillo, Texas all facing the diabolical C.B. Kool with the most diva-luscious manager in wrestling, Jade. The classical beauty of Jade was making heads turn and drew awes from the crowd as she entered the ring side area. She was an angelic beauty dressed all in black looking devilishly sensual with her glowing dark eyes as deep and dreamy as windows looking into your soul. Jade's intoxicating beauty creates an irresistible distraction at ringside that is the eternal good luck charm of the Koolest Kat in Town, C.B. Kool. As the match began, the masterful wrestling of Kevin Rhodes made short work of former champion TALON with a series of textbook wrestling moves that were flawlessly executed. As the current champion, Rhodes worked the leg of the larger TALON he tried several submission holds until he was able to get the pin to retain his title. This left the Lone Star in a two on one situation but he seemed up to the task. Rhodes was in championship shape and ready to unleash that famous Rhodes' family temper looking like he wanted a piece of both men who stood in his way. The cheers for Rhodes were hard for the other wrestlers to ignore as the signs held at ringside were a clear indication that the house was full of Lone Star fans sporting their Kevin Rhodes t-shirts. Rhodes battled both men and took them off their feet with a flying double clothes line. Ace Valvone even stepped up on the ring apron to get a piece of Rhodes who obliged with a bionic elbow that sent Valvone back into the crowd. The infectious beauty of Jade was glowing as if she were standing in a beam of moonlight by ringside crying for mercy to help her man, C.B. Kool. Things looked bad as the premier Jr Heavy Weight in the NWA CWFL, Kevin Rhodes went for the pin against C.B. Kool. But the champion felt the cruel sting of Jade's flawless hand pull his foot under the ropes making the referee call for the break. When Rhodes protested the referee asked Jade if she had pulled Rhodes' foot. She answered "NO!" in a voice as soothing as a lullaby of harp music and as warm as the flame of a cinnamon scented bath candle. Just then the trouble began as Rouge sneak attacked Rhodes from behind rolling him up for a pin making Rouge the new NWA CWFL Jr Heavy Weight Champion. Ace Valvone grabbed the belt from the commentators table and was raising Rouge's hand in victory and was ready to return to the locker room when the referee reminded them that the match was not over because he still had one opponent left. Now all he needed to do was defeat the Koolest Kat in Town, C.B. Kool to keep the belt. Rouge and C.B. Kool began one of the most extreme exchanges of blows seen in the NWA in years. Ace Valvone getting in his cheap shots when he could against the Kool one as Jade looked on with heartbreak in her eyes as her man now fought to regain the title that he longed to have. The upbeat energy of her voice seemed to inspire the cruel C.B. Kool who continued to battle. Subsequently Ace Valvone grabbed C.B. Kool from behind as Rouge swung at him with a cookie sheet. You could hear the sting of metal hitting bone as the baking pan folded over the head of the wily Valvone. C.B. Kool then thug whipped the snot out of Rouge and pinned him in short order. Making the Koolest Kat in Town, C.B. Kool the NWA CWFL Jr heavy weight champion once again with the ardently decorous Jade by his side. The manager provocateur, Jade was shouting encouragement and directions to her man the champion, C.B. Kool. This red-hot little lady was proving to be a manager that encapsulates both beauty and brains as she lead C.B. Kool in this game of human chess. C.B. Kool and Jade are shooting stars here in the NWA CWFL. Even though they're only in their early twenties, the team of C.B. Kool and Jade have already established themselves as superstars of the independent wrestling world. With performances like this they will continue to rise as they deliver the same hook filled hard hitting action as always, with championship caliber matches like the ones tonight. Make sure to catch them live at their many appearances around the country to fully see how far this young talented couple has come.
12-13-03
20. Midnight Rider 3 / Kevin Rhodes pinned CB KOOL
The Midnight Rider 3 came out first to enter the ring for his first title match. Then the champion, C.B. Kool made his entrance followed by the leather-clad enchantress Jade who is devilishly delicious outfit complete with leather whip drew whistles of admiration from the cheering crowd. As the match got under way the Koolest Kat in Town seemed impressed that this howling, scratching, sniffing, belching maniac the Midnight Rider 3 could actually wrestle. C.B. Kool seemed to enjoy having such a challenge for a change. The harmonious voice of Jade echoed through the building as she shouted commands and words of encouragement to her man C.B. Kool. This red-hot little lady was once again proving to be a manager that encapsulates both beauty and brains as she lead C.B. Kool in this game of human chess. C.B. But the pace became just too much for C.B. Kool and the Midnight Rider was able to pull off the victory with a roll up and pin. The usually sharp wit of C.B. Kool seemed slightly humbled by the loss and he congratulated the Midnight Rider 3 for a great match and win. But Agent X seemed a little upset and thought that he would expose the Midnight Rider 3 by hitting him from behind and breaking a metal folding chair over the head of Midnight Rider 3. Agent X then unlaced the mask and revealed his identity. To the shock and amazement of the NWA CWFL crowd it was none other than the Lone Star Kevin Rhodes under that mask. C.B. Kool was outraged and demanded that his title be returned. NWA CWFL commissioner Rick Love once again stepped in and said that referee Alex's decision would stand and that Kevin Rhodes was once again NWA CWFL Jr. Heavy Weight Champion.
21. CB Kool
In a final four way CB Kool pinned Kevin Rhodes after his moonsault off the top rope.
22. August 28th, Rex pins CB Kool at the National Guard Armory in Orlando Florida.
23. January 29th. In a somewhat controversial match, Tommy Marr defeats Remix to become the NWA Florida Jr. Heavyweight Champion.
**Title is currently vacant**